Conquest 20
Ehasa organizes the Conquest 20 airsoft event on May 6, 2023 in Padasjoki. Registration for the event opens on 14 February at 18:00 in the kuulaportti service.
Anniversary games of the Conquest series at Padasjoki!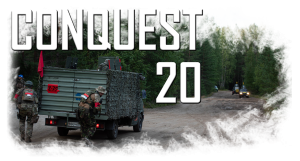 This is the 20th Conquest event organized by Ehasa. In honor of that, we decided to organize the event at Padsjoki, which enables larger numbers of players and vehicles.
In the event, two factions seize and hold Ehasa's electronic capture points. In addition, the factions will have different tasks during the event. Points are accumulated from tasks and capture points, which are transferred to Ehasa's status system.
Two sides (Yellow and Red), both of which have their own base. Both factions have their own capture points. You can respawn at the capture point at even hours (xx.00) and half-hours (xx.30) when the flag is in the possession of your own faction. The opponent can capture a capture point that prevents respawning.
The mission items found in the game area must be taken to your own factions Capture point, where the other faction can steal them if they wish.
Support weapons such as machine guns and semi-automatic sniper rifles are only allowed 2 per squad.
(Note when registering that those roles have their own factions!)
The number of vehicles is initially limited to 4 per faction, regardless of vehicle class.
The use of full auto in the event is allowed only by a limited number of machine gun and vehicle gunners!
The factions do not have the command structure offered by Ehasa. Volunteer faction leaders are wanted (free game fee). Faction leader applications are requested by e-mail to info@ehasa.org. During the event, in any case, the tasks will be announced in the status service.
Players can also organize themselves on Ehasa's Discord server in closed discussion groups of the factions. Read the instructions for accessing the #ehasa-ry-info channel on our server.
The bases of the factions will be published closer to the event on the status.ehasa.org service
Brgr.in arrives on site to sell delicious hamburgers and other barbecue delicacies!
Regarding HPA air filling, we recommend contacting partners such as Atom Airsoft.
Unfortunately, the age limit for the event is 18 years. The requirement for an age limit is due to the contract terms of the game area.